Take-off area:
to be determined
An elevator to the sky
Take-off area:
to be determined
An anchored flight for private or public parties/events
Organizing a party or event and want to make it even more memorable? Why not consider an anchored balloon flight?
An anchored flight consists of a series of brief ascents in the balloon, which is anchored to the ground by three ropes.
It is a great opportunity to get to know and enjoy your first experience of a balloon flight. Our staff will be on hand to explain how everything works and to accompany guests, big and small, on this fun adventure.
The total duration of the anchored flight is from one to three hours, plus two hours of pre-flight preparation and post-flight deflation and packing away, which you and your guests are welcome to watch or help with.
The maximum height we can reach is 30 meters. If the space is not sufficient, this maximum height may be reduced (unfavourable weather conditions can also cause us to reduce this height).
For safety reasons, the anchored flight cannot take place if the weather conditions on the day are not suitable.
The anchored flight can take place in a grassy field or in a town square of sufficient size – 50 x 50 meters and free of obstacles.
Contact us and we can work out the details together!
When reality exceeds imagination
Extra services to add to your flight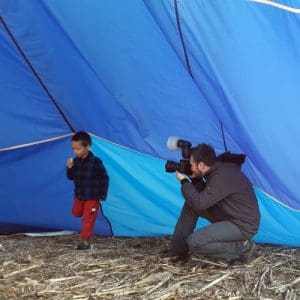 Throughout your flight your eyes will be filled with beautiful images that will stay with you forever. However, if you're worried your friends won't believe how stunning it is, ask for our on-board photographer and immortalize your most beautiful moments, above the clouds.
Euro 250 Photographic service during flight and on the ground.
Euro 150 Photographic service on the ground, before and after your flight.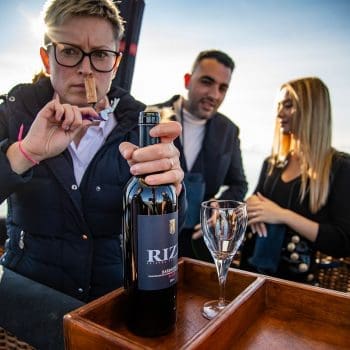 Wine tasting
with sommelier
This region is world famous for its wine. Why not request our on-board sommelier, who will combine the perfect wine and food to make you fly even higher!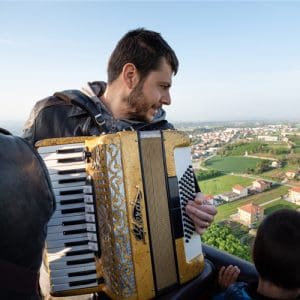 We always try to satisfy the requests of our clients, but we draw the line at singing! If you would like some music to accompany your flight, and make it even more romantic and memorable, ask for our musician-on-board service!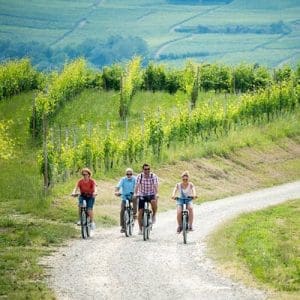 While ballooning is considered a sport, it isn't the most active of sports (especially once you take our brunch into account!). If you want to expend a bit more energy while also rediscovering the places you saw from the air, we can supply electric bikes that will be delivered to you upon landing!
Euro 55 per electric bike
Flight Calendar
Select the perfect day to fly.
Choose the date, find out which types of flight are available and book!
We convinced you, didn't we?
An elevator to the sky
Take-off area:
to be determined