Take-off area:
to be determined
Away from the Crowds
Take-off area:
to be determined
Are you in a big group, really big?
No problem!
We can organise a balloon flight tailored exactly to your needs. Depending upon the size of your group, you can fly in one or more balloons that will take off together, making the experience even more special.
An exclusive flight allows you to hire our balloon for just you and a friend, who will no doubt be delighted to accompany you on this experience of a lifetime.
You can fly on the day of your choosing, dependent, of course, upon the weather conditions. Let us know when you would like to fly and we will take care of the rest!
Let us know the date you would like to fly and we will take care of the rest!
Or, purchase a coupon, valid for two years, and decide in your own time when you want to fly!
From June to September, flights take place exclusively at sunrise. From October to May, we are also able to fly in the late afternoon, towards sunset.
Before booking, we recommend you read our Frequently Asked Questions.
Flight limitations
Expectant mothers and people with heart or respiratory problems are not permitted to fly. You will also not be permitted to fly if you are not able to maintain the crouching position (this is sometimes necessary for landing), or if you have been scuba diving in the previous 24 hours.
Read our terms and conditions.
When reality exceeds imagination
Extra services to add to your flight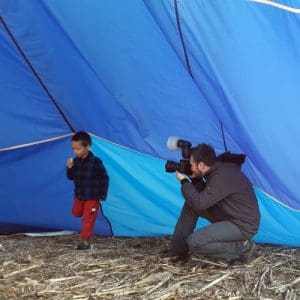 Throughout your flight your eyes will be filled with beautiful images that will stay with you forever. However, if you're worried your friends won't believe how stunning it is, ask for our on-board photographer and immortalize your most beautiful moments, above the clouds.
Euro 250 Photographic service during flight and on the ground.
Euro 150 Photographic service on the ground, before and after your flight.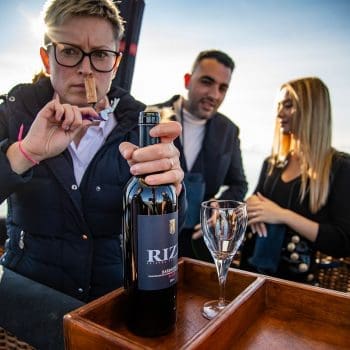 Wine tasting
with sommelier
This region is world famous for its wine. Why not request our on-board sommelier, who will combine the perfect wine and food to make you fly even higher!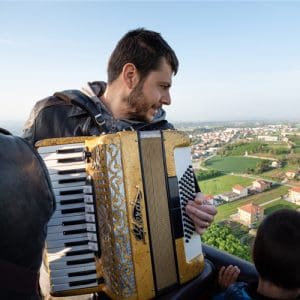 We always try to satisfy the requests of our clients, but we draw the line at singing! If you would like some music to accompany your flight, and make it even more romantic and memorable, ask for our musician-on-board service!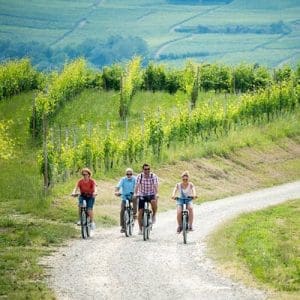 While ballooning is considered a sport, it isn't the most active of sports (especially once you take our brunch into account!). If you want to expend a bit more energy while also rediscovering the places you saw from the air, we can supply electric bikes that will be delivered to you upon landing!
Euro 55 per electric bike
Flight Calendar
Select the perfect day to fly.
Choose the date, find out which types of flight are available and book!
We convinced you, didn't we?
Away from the Crowds
Take-off area:
to be determined